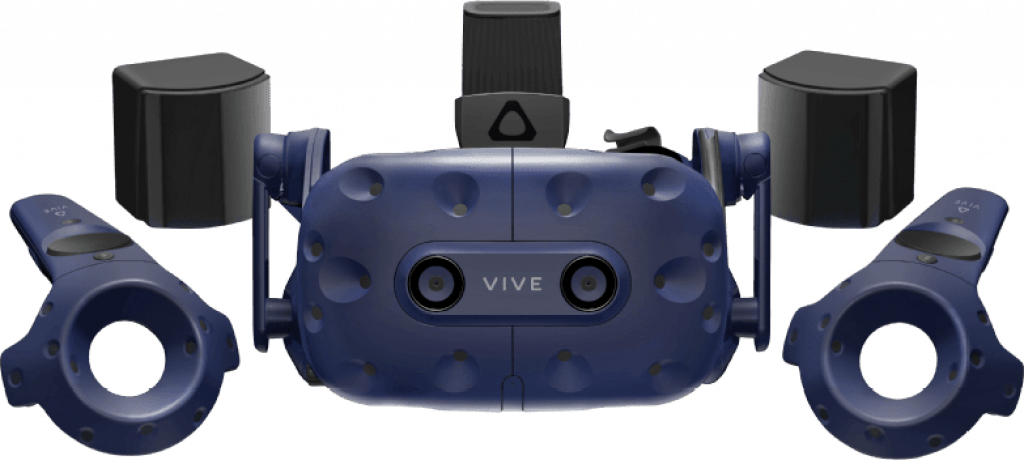 Virtual Reality Rental
High resolution wireless VR HMD display
Refresh rate 90 Hz
Incredible VR Games
Description:
Positioned as a high-end professional unit, the HTC Vive Pro has a high resolution AMOLED display and features advanced tracking with SteamVR. For experiences that rely on sound, the headset is capable of 3D Spacial audio.
Offering a 78% sharper display than the original HTC Vive, this headset is guaranteed to impress attendees at your event or exhibition.
The redesigned face cushion and nose pad block even more light than the original Vive, which deepens your sense of presence. The face cushion contours to most face shapes with new cloth-lined foam, while the nose rest covers any nose shape thanks to a unique flower petal-inspired design.
Each controller features 24 sensors for accurate tracking and unobstructed movement. You get that 360˚ motion tracking with Vive thanks to two base stations that plots the headset and controllers exact location in space. When setting it up, you walk around the boundary of your play area, and it learns the layout. Then if you move your head or arm to the boundary, the Chaperone guidance system warns you with a blue grid in your vision.
PC Requirements
The minimum system requirements for the headset include:
GPU: Nvidia GeForce GTX 1060, AMD RX 480 equivalent or better
CPU: Intel i5-4590, AMD Ryzen 5 1600
RAM: 4 GB or more
Hard Drive: 30 GB or more of free space
Video Output: Display Port 1.2 Output (Note: It doesn't work with HDMI)
USB Port: 1x USB 3.0 or better
Operating System: Windows 8.1 or later, Windows 10
Extra Requirements: You will need administrator access rights on your PC to use the VR headset
What included
HTC Vive Pro
Tracking Sensors
2 x Sensor Power Supplies
2 x Controller
2 x Micro USB Cables
2x Sensor Stand
2 x USB Chargers to recharge controllers
1 x Link Box
1 x Power Adapter
1 x Display Port 1.2 Cable
Description:
Note: The Vive is recommended for indoor use, and we cannot guarantee the tracking will work outdoors.
You need a minimum of 1 x 1 meter of free space to use the Vive, however some content will work best with a minimum play area of 2 x 1.5 meters. The two sensors need:
Higher than anyone who will be standing or sitting in the area

In opposite corners from each other, with clear light of sight to each other
No more than 5 meters apart

Each sensor has a 2.2 meter power cable which needs plugging in
Games & Experiences
Beat Saber 
Whether you're playing the Oculus Rift S, HTC Vive Pro or Playstation VR, Beat Saber is one of the most popular games in virtual reality. Your controllers become lightsabers and your must slice boxes that are timed with some amazingly fun music. This is definite crowd-pleaser and the first experience we recommend for anyone's first taste of virtual reality. Watch out, you may work up a sweat.
Tilt Brush 
Paint in 3D with an unlimited palette using Tilt Brush. This experience takes painting to a new level. You can move around and create art in space. Output your work as GIF and share it with others. You can also play Pictionary by having teams watch the picture get drawn on the laptop (or a bigger TV / projector if you rent the laptop with video out). It's a ton of fun.
Space Pirate Trainer
Stand on a platform and shoot down waves of drones trying to take you down first. This is a fun shooting game that allows you to move around, dodging bullets and returning fire. Virtual reality shooting games are much more interactive, and this kid-friendly shooter is a ton of fun.
SuperHot
SuperHot is a mind-blowing game. Your faceless enemies only move as fast you do. You can dodge bullets, punch enemies, grab objects to throw, and shoot. This interactive game can get intense, in a good way.
Are you interested in Virtual Reality (VR) birthday party?
Full Managed VR Arena brought to you
If you are looking for a virtual reality birthday party for your next party or event hire us. Have a birthday party in virtual reality! Kids love virtual reality. We bring kid-friendly virtual reality games that will turn any birthday party into the most talked about event for your kid and his/her friends
Serving the entire Ottawa & Gatineau Area
We proudly serve Ottawa, Almonte, Amprior, Carleton Place, Cumberland, Gloucester, Kanata, Manotick, Nepean, New Edinburgh, Orleans, Dunrobin, Riverside South, Richmond, Stittsville, North Gower, Embrun, Gatineau and surrounding areas.
So if you'd like to hire the HTC VIVE, would like it pre-loaded with custom content or have a larger content project in mind, please call us today to discuss your requirements. We'll be happy to help!
GET IN TOUCH FOR A FREE QUOTE & CONSULTATION
Tell us what Technology Hardware you need and we'll get back to you.
VR gaming is the term used to describe a new generation of computer games with virtual reality (VR) technology that gives players a truly immersive, first-person perspective of game action